Travel Accessories
Sale: Favorite Carry-On Tote
By
|
One King's Lane has my favorite carry-on tote on sale for $135 through Thursday, April 26 (HT: View from the Wing).
My Tumi 18″ Quintessential Tote was a birthday gift last year. I've found it perfect as an overnight or light work out bag, not to mention a great option for a 3 hour layover in Jamaica. I have easily fit a full change of clothes, a pair of heels, a kindle and/or iPad, bottled water, snacks, and my make up bag.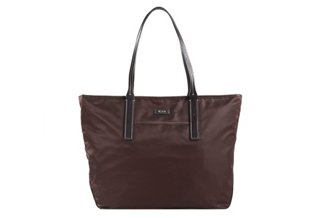 The two deep external pockets and internal zippered compartments make it easy to stay organized and fits #3 on Jeanne's list for fashionable travel. It combines style with practicality without screaming "I'm a duffel" or over-sized purse.
I have the sky blue version which is currently sold out, but the brown actually goes with more.
Sign up using my referral link and we'll both get $15 towards expanding our luggage collection or see if your friends already have accounts and get them that much closer to the perfect Tumi bag.
Full Disclosure: I may receive affiliate credit from links in this post or on this site which will help fund my travels. Thank you for your support!
Related Posts: