Don't Make This Mistake When Visiting Crater Lake National Park
Planning a trip to Crater Lake National Park for early summer? Don't make the mistake I just did.
Life has been a little crazy of late, trying to balance a bit too much work, travel, and other obligations. And my planning prowess is not up to my usual standards. When quickly mapping out a Memorial Day weekend roadtrip from Portland, Oregon to San Francisco, California, I saw we would come pretty close (~1.5 hours) to Crater Lake and decided to add it to our list of stops.
I quickly checked on Crater Lake boat tours, which don't start til June 23 and the average temperature, which was in the 60s. Since we wouldn't have time to hike or do anything else, I stopped there.
If anyone has visited Crater Lake outside of July-September, you're probably having a good laugh right now. It wasn't until the night before we headed there that I did a little more research on our options. The high was going to be 70 and the road around the lake was still closed due to snow??
Somehow I had completely missed their recommendations for visiting in May and June, which I didn't see until after we were back home. Like I said, not on my travel game.
A high of 70 and still some snow…I'd only packed sundresses and my Teva hiking sandals since everywhere else we were going was close to 90. Maybe I'd throw on my work out pants underneath in case it was still chilly in the morning.
You can imagine my embarrassment and chagrin as we began the drive to the top. There was still snow on the ground at 4,000 feet. There was a lot of snow on the ground at 7,000.
So much so the two story visitor's center and gift shop at the top was still nearly buried.
As were the bathrooms.
But, stepping carefully, I made it to the top and beheld one of the most beautiful sites I've ever seen (and that's saying something). I was glad I had come while there was still snow on the ground as it made the rocks, hills, and trees stand out in even greater contrast. Absolutely breathtaking!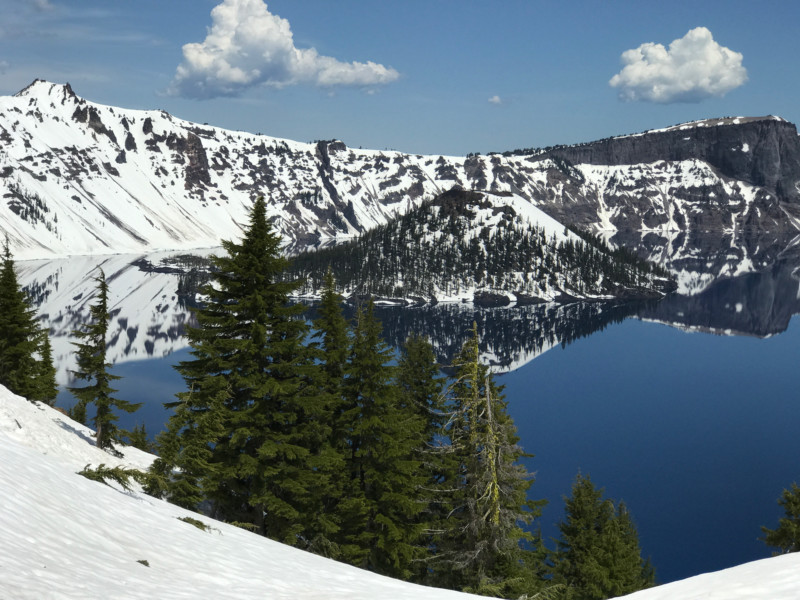 And though my feet were cold, I actually didn't need my sweater or scarf. My sandals were even getting better traction on the slippery sections than those wearing sneakers.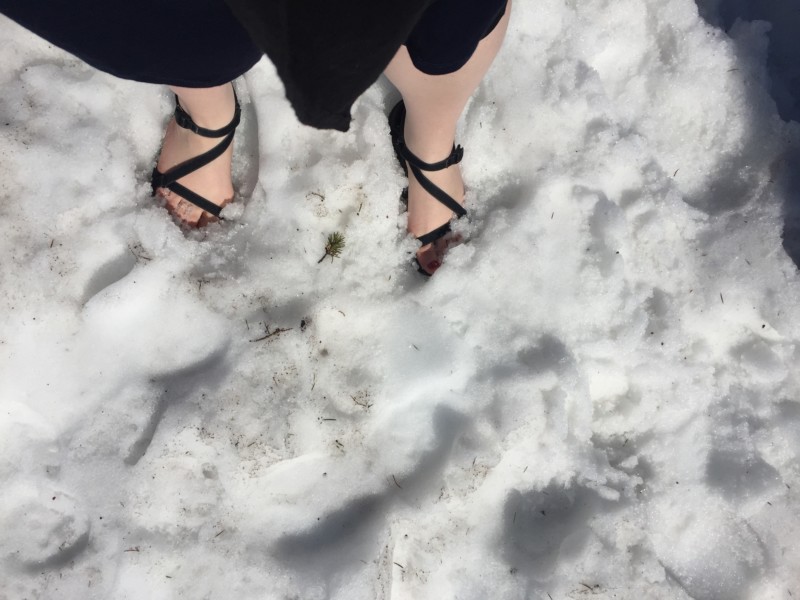 The temperature was so pleasant we even decided to sit out on the stone terrace at the Crater Lake Lodge hotel and enjoy the view. Their wine, beer, and food menus included many local options.
The prices in the Lodge restaurant were fairly reasonable, so if the view from the dining room hadn't been blocked by the snow drift we probably would have lunched there.
Instead we found a surprisingly good cafe about an hour from the top in Prospect, OR. Beckie's Cafe at the Union Creek Resort has simple, well prepared options. The salad was fresh and the ham & cheese melt was perfectly toasted. Definitely get some pie.
I will be coming back again in the future, sometime when all the roads are open, but I wouldn't have missed this for the world.
And I also suggest wearing closed shoes if you'll be visiting Crater Lake National Park in May or June.
Full Disclosure: I may receive affiliate credit from links in this post or on this site which will help fund my travels. Thank you for your support!
Related Posts: